"Do You Want to
Convert YouTube™ to MP3? "
Brighten Your Day with an Amazing Music Collection - Easily Capture ANY YouTube Video
From: Paul Valkama
President/RadioTower.com
Saturday, 7:44
Dear Music Lover,
Do you love finding great tunes on YouTube! Would you like to convert these to MP3 format so you can enjoy those same tunes anywhere? Maybe you have an iPod/iPhone/MP3 Player and would like to feed it with lots of free and legal music?
Perhaps you would like to record other video ... A My-Space clip, something on Internet TV?
But you don't want to mess around, spending hours just figuring out the little details ...
Make it easy on yourself. One quick download and your off building a great collection of tunes and video.
Working on RadioTower.com for over 16 years I'm always on the search for cool and useful Internet audio-video tools. I always wanted to be able to quickly save tunes or programs that are playing.
Or, if I'm not going to be around, set it to record.
Good News - There's a great way to enjoy 1000's of hours of great audio and video clips, shows and live feeds on-demand ... At your convenience!
I can highly recommend Replay Video Capture as a perfect tool to help you enjoy Internet Audio and Video! For full disclosure I am an affiliate of their's but I won't recommend something I don't like ...

Replay Media Capture makes it easy to:

Capture video clips and music.

Record live, or schedule recordings to happen later.

Automatically convert to 36 different video and audio formats, including iPod Video, iPod Audio and iPod Audiobook.

Pick Radio and TV shows and stations using the integrated Media Guide.

Click here to Listen to YouTube
MP3's Where and When You Want!
According to PC World ...
"Setting up daily or weekly recordings is a cinch."

PC World


Colin thinks it's great!
"Replay is a great program. It's also nice to come across a company who is interested in it's customers."
- Colin Thomas
Easily Capture All Types of Media
Media Capture includes an audio recorder that can snag anything you can hear.That's right Record ANYTHING you want that you can play on your computer ... XM Radio, WiFi Boomboxes (uPnP), Micro phone or any attached audio gear.
Easily Manage All Types of Media
All the popular formats are supported, including Windows Media™, Real™, Streaming MP3, Flash Animations and Flash Video.
Easily find great material to record with the Integrated Replay Media Guide which features over 1,251 Radio Shows, 5,145 Radio Stations, 34,042 Podcasts, and 520 Online TV stations. You can also use the URL Finder to locate stations not listed in the guide.

Take it with you - Make audio and MP3 CDs or automatically import recorded shows into iTunes.
Works wonders on Podcasts (downloadable radio shows). With the integrated Replay Media Guide, you can subscribe to Podcasts or download individual episodes to iTunes with One Click.
Convert automatically to iPod bookmarkable and retag genre on MP3s to make organizing shows easy.
Maximize your listening time ... Easily split recordings, Compress Speech or eliminate long periods of silence from recordings.
Optional Enhanced Sound Card Driver makes highest quality recordings.
Make sure you get the shows you want by automatically checking for new shows at specified times or intervals.
Think Tivo™ for the Internet
- An Internet Audio-Video Recorder!
You don't have to fuss with tapes, it's very easy to use and you have the whole Internet to feed you great content.
If this was hardware it would easily go for $200 - Think how much a state-of-the-art Ipod goes for or a Tivo...
So the price Replay charges for the software is very reasonable - Only $49.95.
OR For the Serious Music Lover Upgrade to
the Full Replay Capture Suite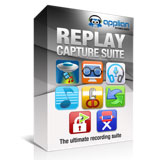 Bundle of 7 A/V Software Turns
You into a Media Wizard


.

Replay Media Catcher: Capture streaming video from thousands of sites, including those that no other program can record. Works great with streaming MP3 music sites too

Replay Converter: This handy video and audio file converter makes it easy to export recorded files into 36 different audio and video formats. Just one click is all it takes!

Replay Music: The Ultimate Streaming Music Recorder. Make perfect MP3s from from Digital Music Services and Online Radio Stations. Accurately splits songs into individual MP3 files, and automatically adds artist, title, album and genre information. Works like magic!

Video Padlock: Password protect personal videos on your PC. It's easy, convenient and secure.

Replay Media Splitter: This handy utility makes it easy to cut and splice captured video and audio files.


Replay Player: Makes it easy to listen to recorded radio shows and skip over the fluff.
The Replay Capture Suite is simple to use but it also comes with a comprehensive User Guide, FAQ, and great customer service.
I can highly recommend Replay Capture Suite as the perfect toolset to help you enjoy Internet Audio and Video!
You get all 7 Software in one convenient bundle and SAVE OVER $100!
Miller thinks it's an easy 9/10!
"Not only is the software a great concept, it is a most useful piece of software. The download and install was the smoothest of all the software I have ever installed.
The record function kicks-in just as you set it to, and stops recording exactly at the time you prescribe.
The intuitive interface could use a bit of glitz to make it look more appealing. Over all, an easy 9, on a scale of 10."
- Miller Bosser
Miami, Florida
Click here to Listen to YouTube
MP3's Where and When You Want!
Start building your private digital library now!
Replay Media Capture PC Software easily records YouTube and Internet video automatically

OR ACT NOW so that you get the Full Bundle and Save OVER $100!

30 Day Full Money Back Guarantee

Try the full unlimited Version RISK FREE for 30 days - If you don't want it for any reason get your full money back, no questions asked.

Milla thinks it's absolutely brilliant!
"I just want to tell you that I am imensely grateful for your software. Replay is absolutely brilliant, and worth every penny, even if it doubled in cost tomorrow.
I live in the UK and whilst the BBC local radio stations are not in your database I have listed them in \'ADD SHOW\' panel which works for me.
Previously I have been using 'Total Recorder' but your dedicated program is simply superb. Thank You."
- Milla
Click here to Listen to YouTube
MP3's Where and When You Want!
Thank you,
Paul Valkama
President,
RadioTower Communications
Suite 4 - 2024 Innsbruck Drive,
Whistler, British Columbia CANADA V0N 1B2
record@radiotower.com
P.S. If you don't use Media Capturehow will you listen to exactly what you want, when you want?
Note: Applian Technologies recording products are not intended for use in circumventing copy protection mechanisms or for making illegal copies of copyrighted content. Please respect the rights of the content owners when recording.
Copyright © 2007-2012 RadioTower Communications. All Rights Reserved.